RETRO MONTH: Nintendogs
Nintendogs was released in 2005 as a real-time pet simulation for the Nintendo DS. It was released in three different versions: Dachshund and; Friends, Lab and; Friends, and Chihuahua and; Friends. There have been two re-releases since then; the first was bundled release with a special edition Nintendo DS with a new version of the game called Nintendogs: Best Friends, and then later as Dalmatian and; Friends.
In this game you basically choose the type of dog you want out of a 6 or more dogs.Each dog has its own personality (just like real life). Although there is a large choice of dogs to choice from you are only allowed to have three dogs maximum at your house. However if you want another dog you can store one dog at your house in the dog hotel. Once you make your choice you get to name it by using the built in mic ability to call out your dogs name to get him used to it.
You can train, pet, walk, brush, and wash your virtual dog using the stylis and With the microphone you can create voice commands which the puppy will understand. (However from what I have seen the commands don't work to well since you have to say it in the exact volume and tone as when your dog first learned the trick or else he want do anything except piss you off.)
There are a variety of toys in the game that you can use to play with your dog, and there are abundances of clothes that you can use to dress your dog up in. You have a bunch of collars, goofy hats, sunglasses, flowers and even ribbons. Even holiday accessories to make your pet festive. This is the only real part of the game I have fun with since it's a way for your creativity to come out.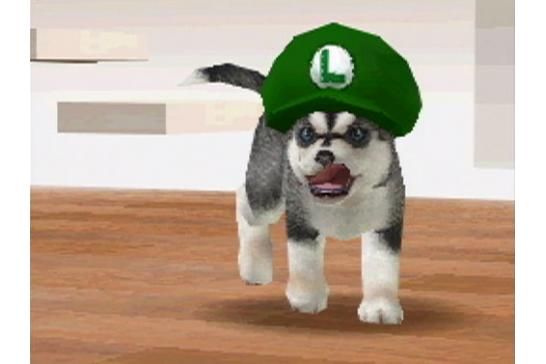 Just like a real life dog you need to feed, water, and wash your virtual dog. To me this is the most boring part of the game since you have to feed and water the dog after every walk, every time you start the game, and multiple times during game play. The bathing isn't to much fun either, you have two kinda of soaps for a long hair dog and a short hair and you have to remember what type of dog you have and then the bathing takes forever and if you want to keep your dog clean for a the rest of the day you have to brush your dog and just like the soap there are two kinds of brushes and the brushing takes even longer then the washing. So very annoying.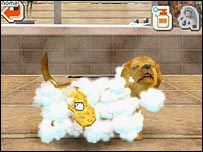 When it comes to walking your dog its a hit or miss. When you first get your dog you have limited walking distance but after time the dogs "stamina", as I call it, grows. There are two parks to go to on the map. You can go to the park alone or if there are dog characters in the park there are other dogs for yours to play with. Along with the parks there are two stores that sell almost the same things, they sell the general things but they also can sell toys and clothes if you go to it at the right time. There is also a training area that you go to to train your dog the the hurdle jumps int the competitions. The (?) on the map represent either a present that contains a mystery prize or a dog that you met along the way. There is no way to tell which on it is till you get to the (?). Personally I don't like the walking cause your dog will also try to eat trash and if you don't pull him away nicely you will loose points and there is almost no nice way to pull him away.
I'm not even gonna talk about the contests cause they just piss me off. You can either have your dog catch a disc, jump rails, or try and get him to do the commands you can never teach him.
Over all it's a fun game for when you are bored or for a small child. I gets old and boring fast and the only cool thing about it is the dressing up your dog. The voice command is a good idea but it would be better if it worked. If your gonna play this game you should play it if your a first time DS user or a young child. However I do find this to be a cute game and almost everyone should play this game even just once.