I Am Setsuna at GDC
SAN FRANCISCO (Mar. 14, 2016) – At this year's Game Developers Conference, the newest studio within the Square Enix Holdings Co., Ltd. ("Square Enix®") group of companies, Tokyo RPG Factory, was on hand to reveal its debut title — I AM SETSUNA™.  The title is slated for digital release for the west this summer on the PlayStation®4 computer entertainment system and Steam®.
Led by director Atsushi Hashimoto, Tokyo RPG Factory aims to capture the narrative depth, impactful storytelling and masterful character development inspired by the golden era of Japanese role-playing games and bring them to current hardware and technology. With a battle system inspired by the classic hit CHRONO TRIGGER®, I AM SETSUNA brings back authentic RPG gameplay, beautiful art design and a sorrowful story to the new generation.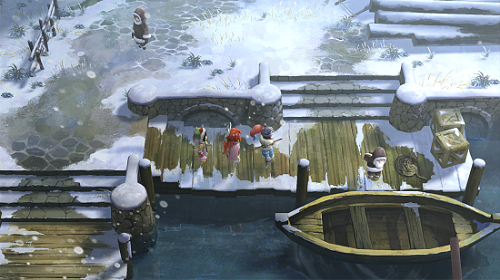 Very Excited for this game, I loved playing Chrono Trigger and other classic Final Fantasy RPG's like this, I feel that this is what Square Enix needs to bring back their older gamer fan base that had played other games like these of theirs, please stay tuned when we get more info on this upcoming amazing RPG!